Lulu.com Publications, distributed by Ingram
Rosendale and New Paltz

September 2008

978-1-4357-4967-2 ISBN

Paperback Book

48 Full Color pages

6.63" x 10.25" 

perfect binding

$ 24.95

The artist believes reading text and seeing pictures 
are very different states of awareness. 
To arrive at a portrait of place, as River describes it, 
 the process of seeing must be uninterrupted. 
He feels a mythic connection to a special place 

is a natural bond with self and nature.



For on line purchase click HERE. 
Preview Available


Trouble seeing e-mail, click HERE to view in browser.
Rosendale and New Paltz

Edition 1

by Glen River of Connecticut

Art Book

This Portrait of Rosendale and New Paltz includes many Paintings depicting familiar views. This stunning collection transports us into a mythic sense of place and time. The paintings are vivid portraits capturing the essence of this sepeial place.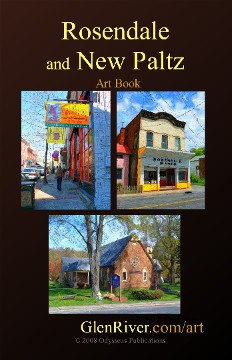 Cover